Implications of Wire Fraud Charges in New Jersey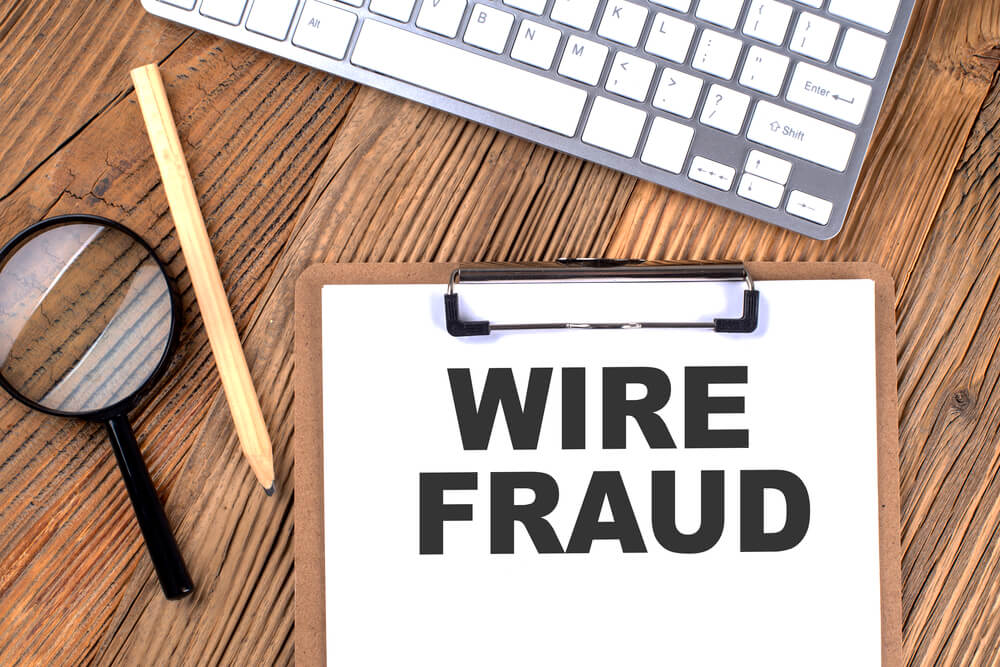 Most people are aware that scams are everywhere. You go to your email inbox and find offers, warnings, and pleas to get you to send personal information or money. Some look like legitimate ads or promotions from known reputable sources. The range of subject matter, from real estate, healthcare, consumables, and banking to investment and job opportunities, is vast. Wire fraud schemes are white collar crimes with severe penalties that typically form a cluster of federal and state charges.
Defining Wire Fraud under Federal Law
18 U.S.C. 1343 defines wire fraud as participating in a scheme with intent to defraud a recipient of money or other items of value through "wire, radio, or television communication in interstate or foreign commerce." The fraudulent act could be a one-time occurrence or recurring. A person who commits, attempts to commit, or conspires to commit wire fraud faces decades in prison.
Proving Wire Fraud Requires Multiple Elements
Wire fraud involves defrauding others of money, property, or services through a scheme. Thus, a prosecutor must prove a defendant intentionally and knowingly entered a scheme of misrepresentations or fraudulent statements and that the defendant obtained some value. In addition, the state must provide evidence that the defendant used wire communications, including email, text, telephone, television, radio, or internet, and that the defendant knew or reasonably should have known that they used wire communication.
Common Scenarios Involving Wire Fraud Charges in New Jersey
Typically, wire fraud is one charge among many because any crime, such as identity theft, comes with penalties. When it occurs through electronic communications, wire fraud is added to the charges, and wire fraud is a federal crime. Examples of wire fraud include calling someone on the telephone to offer to deceive them into providing credit card or other financial or identification information. Another example may be an email designed to look like a major retailer with a gift to obtain personal information.
Other scams leading to monetary or identity theft are impersonating governmental agencies, such as the IRS or Social Security Administration, to threaten someone by telephone or text to pay an overdue tax bill or verify their social security number. Finally, theft of services includes fraudulently scheming to obtain free electronic services, such as internet, cable, telephone, or utilities, by installing equipment or devices that intercept or decode signals.
Additionally, when an individual devises a phishing scam and sends an email to an employee of a big corporation pretending to be the CEO, they are guilty of wire fraud when the employee complies with the email request for their password. From there, the individual then accesses sensitive data on the employee's computer to extort ransom from the corporation. Besides phishing, scammers may deceive people into giving them their banking information and social security numbers to steal money, open credit cards, or call people with fake investment schemes and further send fake forms as applications to buy or rent a non-existent item or enter a fake drawing or online auction to obtain personal and financial information.
Penalties and Sentencing for Wire Fraud in New Jersey
Those found guilty of fraud and theft by wire face severe penalties. A conviction may lead to 20 to 30 years in prison and $250,000.00 to a million in fines, depending on the victim. When a financial institution is the victim, the defendant faces a lengthier prison sentence and a higher penalty. The convicted defendant must also pay restitution and forfeit assets to cover the fines and restitution. However, wire fraud typically includes other crimes with additional sentences.
Additional Charges You May Face when Accused of Wire Fraud in NJ
Computer Hacking Charges in Wire Fraud Cases
A federal crime specifically targeting computer hacking is codified in 18 U.S.C. 1030(a)(4), which prohibits anyone from committing fraud via computer access without authorization or beyond proper authorization. Like wire fraud crimes, the accused must intend to access a computer to commit fraud, but unlike other wire fraud crimes, the defrauded money or other items of value must be greater than $5,000.00. A conviction could result in five years in prison for a first offense and ten years for a subsequent one.
Charged with Theft of Services in a Wire Fraud Case
Another common crime arising in wire fraud cases is theft of services, or fraudulently obtaining services, which is punishable by a wide range under New Jersey law, from six months in jail to ten years in prison. The sentence depends on the aggregate value of the stolen goods or services. For example, it is a second degree offense when the value is over $75,000.00, but a third degree offense when the value is below $75,000.00 but greater than $500.00.
A second degree crime is punishable by a maximum ten-year prison sentence and a $150,000.00 fine, while a third degree crime comes with a potential five-year prison term and a $15,000.00 fine. It is a fourth-degree crime when the theft value exceeds $200.00 up to $500.00 and a disorderly persons offense when the value is under $200.00. A fourth degree prison term can be as long as 18 months in prison with a $10,000.00, but a disorderly person offense conviction results in a possible six-month jail sentence and a $1,000.00 fine.
Potential Defenses to Get Wire Fraud Charges Dismissed
When facing charges for wire fraud, a prosecutor must prove that you intended to defraud another. Without the requisite intent, the state cannot convict someone of wire fraud. A possible defense to wire fraud is a lack of intent, evidenced by a lack of financial motive through circumstantial evidence and other behaviors that contradict an intention to commit fraud, such as returning what was inadvertently taken from another. And there is a thin line between over-enthusiastic marketing, exaggerating claims or puffing, and misleading or misrepresenting people. Again, without an intention to defraud a victim, there is no crime of wire fraud.
Talk to an Attorney for Skilled Wire Fraud Defense in Burlington County NJ
When the state or federal government accuses you of wire fraud, our zealous New Jersey wire fraud defense attorneys can raise defenses based on the facts and evidence in the case, whether it be good faith intentions, procedural violations in the investigation, insufficient evidence, or another defense strategy. In addition, we know that the state has only a limited number of years to bring a criminal complaint against you. The statute of limitations is five years for wire fraud, meaning you may have a complete defense to the crime when that time elapses. Our criminal defense lawyers have experience at the New Jersey Attorney General's Office and as dedicated criminal defense attorneys for years, which gives us a comprehensive vision of how to investigate and strategize the best defense in your wire fraud case. There may be other avenues to reduce the charges or obtain a favorable plea, and we go through every option with you as we safeguard your rights in the criminal justice process.
Get help from our wire fraud defense lawyers at Proetta, Oliver, & Fay to defend against wire fraud accusations in federal and state court. We handle these cases on behalf of clients in Burlington County and throughout Southern New Jersey. Contact us at (609) 850-8284 for a free consultation.