Criminal Charges Arising During a Drug Raid
Criminal Defense after You Have been Arrested in a Drug Raid in Burlington County
Mount Holly NJ Drug Raid Defense Attorneys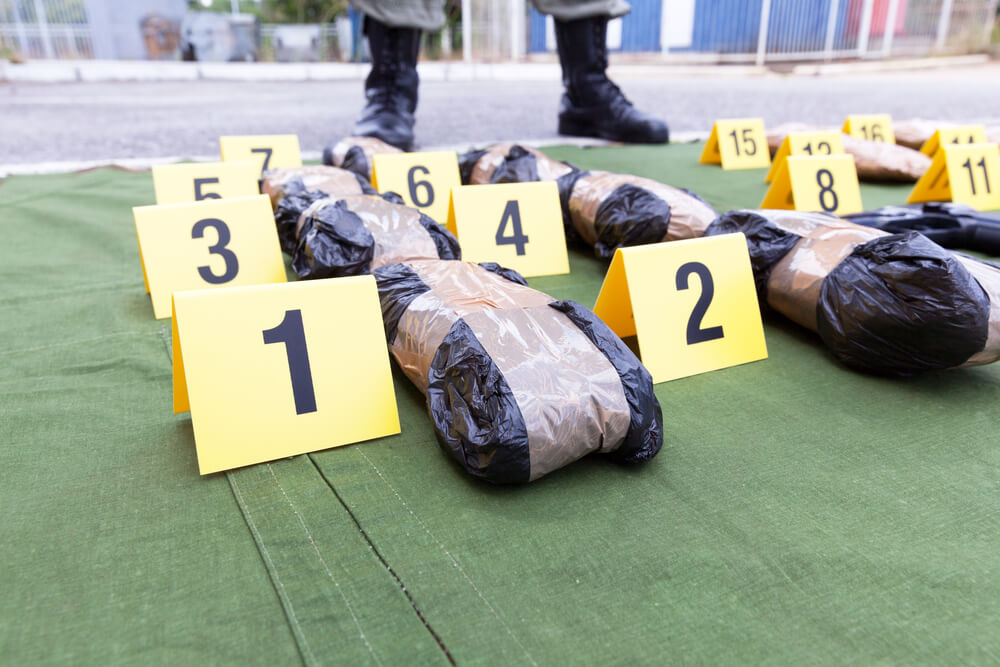 A movie's depiction of a drug raid opens with a police officer kicking open the door to a home and screaming for everyone to hit the floor. Then a swarm of police officers rush through the door, find drugs and arrest everyone there. Though dramatized on television and movie screens, the drug raid is an extraordinary event that is heart-pounding terror for all involved, even when it involves a few suspects and a handful of officers. In real life, law enforcement prepares for a raid, making sure they have probable cause to suspect that the raid location maintains illegal drug sales or an illegal drug production facility, so they can get warrants issued by a judge to search for drugs, seize evidence and make arrests. In other words, they must follow the laws to carry out a raid.
If you or someone you love has been arrested and taken into police custody following a drug raid in Mount Laurel, Mount Holly, Lumberton, Pemberton, Willingboro, Burlington City, Evesham, or another town in Burlington County, New Jersey, call the law offices of Proetta, Oliver, & Fay to speak with a criminal defense attorney who can assist you immediately. We handle detention hearings, investigations, and every phase of the criminal justice process, protecting your rights from the moment we become involved in your case. Call 609-850-8284 for a free consultation.
Narcotics Investigations Resulting in Drug Raids in New Jersey
Most raids follow a state or federal police investigation about the activities at the target location, whether a home, business, or other building. They may receive an informant's or citizen's tip or some other evidence to spur the investigation and obtain a warrant from a judge to search the premises and arrest the location owner and other suspected occupants. For safety, officers surveil the location before the raid to see who comes and goes from the site, points of entry and exit, and firearms.
Inside Look at a How a Raid for Drugs is Conducted
After surveillance, law enforcement may raid the location with or without occupants. When people are inside, the officers mobilize them by ordering them to the floor while other officers secure the entrances, exits, and search for weapons. After securing the area, they may dig through rooms in drawers, cabinets, and other places where drugs or evidence of drug-related crime may appear. While some officers search, others may confirm the occupants' identities and arrest those named in the warrant and others who appear to be involved in drug possession, sales, manufacturing, and trafficking. So, the operation involves those who collect and seize evidence and those who arrest and take suspects to be booked and jailed.
How does a Drug Raid Comply with New Jersey and Constitutional Law?
Law enforcement may not violate the 4th Amendment of the U.S. Constitution by unreasonably invading the privacy of someone's residence or their person to search for drugs or make arrests without a warrant. However, warrantless entries into a place and searches may be justifiable when law enforcement has probable cause to believe criminal activity occurred or will occur at the location and exigent circumstances leave little opportunity to get a warrant, such as the occupants will flush the drugs down the toilet or otherwise dispose of them. Probable cause means reasonable grounds to suspect criminal activity, and exigent circumstances indicate the police have no time to get a warrant when the situation occurs in the spur of the moment, and immediate response is necessary.
Another warrant exception is when police render emergency assistance, like saving someone's life or handling a fire, inside a residence or other place. Along the same lines, police officers do not need a warrant to enter a domicile to prevent or stop domestic violence or help someone injured or otherwise in need as their community caretaking duties. Of course, the police do not need a warrant to enter a dwelling when someone authorized to do so gives consent or when the person is under arrest. They can search you and your surroundings. And when a suspect runs from the police into a residence, the police can follow them there. Moreover, any drugs in plain view are subject to seizure without a warrant.
I Don't Live in the House that was Raided, But I got Arrested Anyway. Why?
Even when you don't live at the raid location, you can still go to jail for possessing illegal drugs or drug paraphernalia. So, any controlled dangerous substance(CDS) that is illegal to possess or to possess without a prescription can land you in jail; regardless if it is heroin, methamphetamine, Fentanyl, cocaine, or Xanax, the police have grounds to arrest you without a warrant. Whether an individual present at the raid goes to jail or walks away depends on whether they have drugs or other illegal items, such as firearms, in their possession, or whether there is evidence of a drug operation. The police do not need to see you performing activities consistent with making or selling drugs. They can assume your involvement.
Criminal Charges that Arise During Drug Raids in Burlington County
When law enforcement seizes drugs with a warrant or under a warrant exception during a raid, you, as the property owner or an occupant, may face serious federal or state drug offenses, such as possession, distribution, manufacturing, and trafficking of illegal drugs. Though a raid occurs in New Jersey, your case may be in federal court when drug crimes involve crossing state lines or international borders or on federal property. Thus, traveling to another state with drugs to sell or use personally may be a federal crime.
When Federal Charges Happen from a Narcotics Investigation in South Jersey
Extensive drug operations involving large numbers of drugs, money, or people may attract the attention of the federal agencies investigating drug trafficking. Federal charges may include drug trafficking, money laundering, or Federal Racketeer Influenced and Corrupt Organization Act offenses. Federal drug charges are much stiffer than state charges. Federal laws uniformly punish drug offenses with prison terms, including mandatory minimum terms, even for first-time offenders, especially in cases of drug trafficking, distributing drugs to minors or pregnant women, or near schools. And the penalties are even higher when someone dies from drugs you sold or gave them. Sentences depend on the type of drug and quantity and the defendant's prior criminal history.
Drug convictions for heroin, cocaine, methamphetamine, crack, LSD, meth mixtures, fentanyl, and marijuana come with a 5-to-40-year prison term, with a five-year mandatory minimum, depending on the weight of the drugs. However, higher weights can carry up to a life sentence, with a ten-year minimum. Other drug convictions carry a maximum of 20 years for Schedule I or II CDS, 15 years for Schedule III, 5 for Schedule IV, and 1 for Schedule V. Fines range from $100,000.00 to $50 million.
21 USC 841(A)(1) is the federal statute for distribution, manufacturing, and possession with intent to distribute. It carries a maximum 20-year prison term unless it is one of the drugs that have mandatory minimums and stiffer penalties by weight. Other related federal charges include drug conspiracy or its attempt (21 USC 846), obtaining drugs by misrepresentation (21 USC 843(A)(3)) that carries a maximum four-year sentence, simple possession (21 USC 844) that comes with a maximum one-year sentence for a first-time offense, leading a criminal enterprise (21 USC 848), punishable by 20 years to life, maintaining premises for drug manufacturing and distributing (21 USC 856) carries a 20-year maximum sentence, and violating the Travel Act (18 USC 1952) by drug trafficking through interstate travel or communications, which carries a five-year maximum sentence.
Drug Charges You May Face in New Jersey Courts after a House Gets Raided
Possession charges under state law, N.J.S.A. 2C:35-10, are third degree crimes punishable by three to five years in prison unless an individual possesses a CDS within 1,000 feet of a school zone, which adds 100 hours of community service to the sentence. And sentences for violating N.J.S.A. 2C:35-5 for distribution, manufacturing, and possession with intent to distribute drugs can range from probation to 20 years in prison, depending on the type of drug and quantity or weight. Like the federal laws, New Jersey schedules drugs depending on their danger for abuse and lack of medicinal use, the highest being Schedule I for heroin, cocaine, methamphetamine, and LSD.
Leading a drug trafficking ring under N.J.S.A. 2C:35-3 can lead to a prison term of life, with a mandatory minimum of 25 years that must be served before you become eligible for parole. Even participating in drug distribution can lead to decades of incarceration, depending on the drug and quantities or weights. Drug trafficking carries a mandatory minimum of 25 years before parole eligibility. N.J.S.A. 2C:35-9, a strict liability statute that punishes drug dealing that leads to death by 10 to 20 years in prison and a $200,000.00 fine, may also result from a drug raid as law enforcement gathers evidence of drug operations responsible for mixing drugs that become lethal cocktails to unsuspecting users. And yet, even having drug paraphernalia can lead to your arrest and conviction.
Potential Defenses if You Have been Arrested in a Drug Raid in New Jersey
Any drug convictions resulting from a drug raid can mean potential prison or county jail time and other severe consequences. As such, discussing your case with a talented and experienced criminal defense attorney at our firm is crucial. You may have a valid defense to the charges, such as ignorance of drugs or other criminal activity on the raid premises or that you had drugs for personal use, not for distribution to beat possession with intent to distribute charges. You may have had a valid prescription for your CDS, invalidating the charges of possessing illegal drugs.
And in case the police did not have a valid warrant or exception to one for the raid, you may have a defense on constitutional grounds. When that happens, the evidence seized to charge you may not be admissible in court. Your attorney may file a successful suppression motion, so the prosecution has no evidence to support a possession, distribution, or trafficking charge. Even without suppressing the evidence, the prosecution may have insufficient evidence for a guilty verdict. In other cases, your cooperation can lead to a reduction of the charges and a plea deal to a lesser charge with a lighter sentence. Even diversionary programs like Pre-Trial Intervention may be on the table depending on your prior record. Ultimately, you need to explore every potential defense option to arrive at the best approach for defending your case, which is why it's invaluable to consult a criminal lawyer who can review and assess your drug case resulting from a raid.
Get Help from Drug Raid Defense Lawyers in Evesham Township NJ
Are you facing criminal charges resulting from the raid of a home or another facility? Have you been implicated in a drug investigation? Are you facing drug raid-related criminal charges in state or federal court in New Jersey? If you have been accused of participating in or leading a narcotics trafficking network in Florence, Bordenton, Cinnaminson, Riverside, Burlington Township, Marlton, Westampton, Edgewater, Fieldsboro, or anywhere else in Burlington County or South Jersey, contact our criminal defense lawyers for the help you need now. Free consultations are provided 24/7 at 609-850-8284.