Getting Indicted in New Jersey: Before, During, and After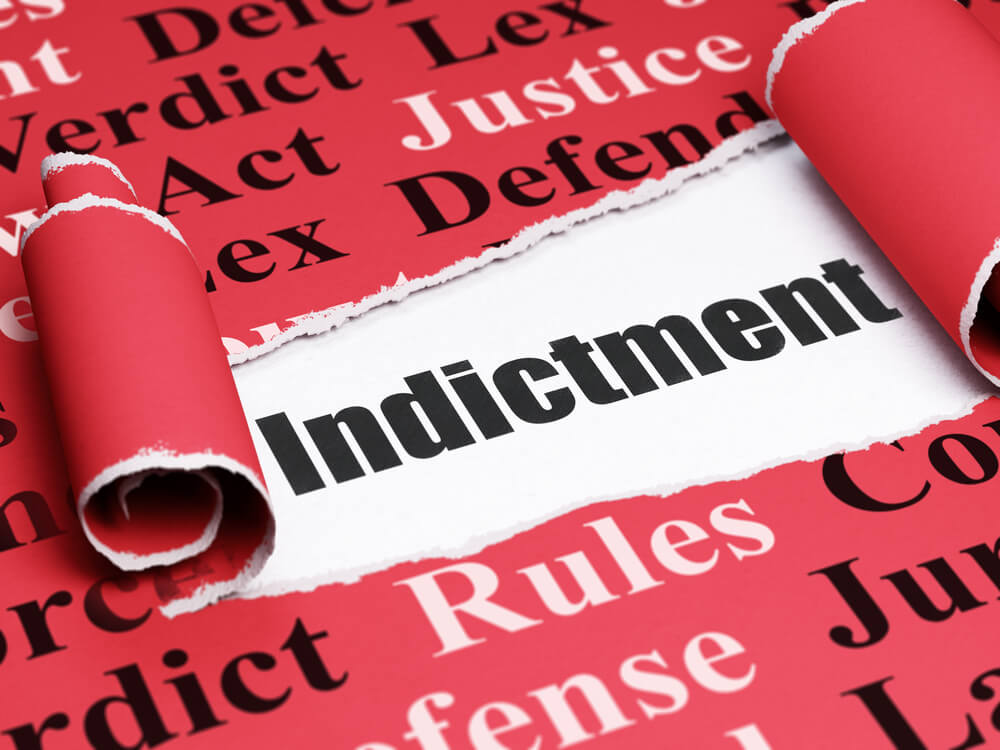 Whether by arrest or summons, finding out that a grand jury indicted you can be surprising, confusing, and frightening. You may need to learn what an indictment means and what happens next. You may even confuse indictments with convictions and believe you are going to jail. An indictment means that a grand jury found sufficient evidence for the state to prosecute you formally. Even with a criminal charge, you face only an accusation of committing a crime; you are not proven guilty.
When you are unsure what an indictment means, you can get clarification from a criminal defense lawyer at Proetta, Oliver, & Fay, a dedicated New Jersey law firm handling criminal law and defense exclusively in courts throughout Burlington County, Camden County, Gloucester County, and Southern New Jersey. Most importantly, we can protect your essential rights to legal representation, a speedy trial, and remaining silent at a crucial time in the criminal justice process. If you learn you may be under investigation, seek legal representation so you do not unwittingly incriminate yourself in answering law enforcement questions. You may not realize that what you say may be twisted to support an indictment or even a conviction, even though you think you are explaining how you did not commit a crime. Contact us for a free consultation regarding your case at 609-850-8284.
Arrest as a Preliminary Stage in the Process
Depending on the crime, your arrest may lead to incarceration and a detention hearing, where a judge decides whether you should remain in jail until your jury trial. For example, a domestic violence charge may require the judge to determine, among many factors, whether you present a danger to the victim upon release. If so, you may stay in jail until your trial unless your attorney convinces the judge to release you on terms that satisfy the court that you will return for future hearings and not pose a public threat. Alternatively, you may receive a summons to appear in court on a specific date to be charged after a grand jury assembles. The grand jury's decision determines what happens next.
Understanding the Indictment Stage
At the indictment stage, you want to prepare for your case moving ahead. An indictment is the beginning of a criminal prosecution. It is a determination by the grand jury that there is probable cause to charge you with whichever crimes the state has accused you of based on the evidence presented to them. The prosecutor overseeing the case gives the grand jurors the documentary and testimonial evidence to justify the charges. An indictment follows when the grand jury is convinced the evidence is enough to support a criminal prosecution. The indictment follows an arrest and criminal complaint by the police or victim.
Resolving a Criminal Case Before the Indictment Stage
You may avoid a grand jury indictment by resolving the charges before the indictment stage. In other words, your attorney may agree with the prosecutor on your case to dismiss the charges because you have evidence that exonerates you, the state has too little evidence to prosecute you, a violated procedural requirement, or other reasons for dismissal. Even when the prosecutor disagrees, your attorney can file a motion to dismiss your case on legal grounds. The judge may agree and dismiss the case.
Alternatively, your attorney can negotiate a plea bargain for you to plead guilty for a more favorable sentence, avoid a trial, or enter a diversionary program to address substance abuse or other causes leading to the charges. Either way, the case ends before a grand jury assembles and reviews the state's case against you.
If the Grand Jury is Assembled, Then What?
Without a dismissal or plea bargain, the grand jury assembles to review the prosecution's evidence to support a reasonable belief that you committed an indictable crime. Lesser criminal offenses in New Jersey are either disorderly persons offenses or petty disorderly persons offenses that are resolved in municipal court. Only indictable first, second, third, or fourth degree crimes go before a grand jury in the Superior Court.
The Superior Court impanels 23 U.S. citizens aged 18 or over from your community to form a grand jury. The accused does not typically appear before the grand jury, only the prosecutor and the grand jurors. When most grand jurors vote to indict you, they issue a true bill, which is the same thing as indicting you. The true bill contains the charges against you, including the allegations of what you did to commit an offense and where you did it.
A no-bill means the majority did not vote in favor of indictment, and the state must dismiss your case. However, the grand jury may recommend that the state reduce your criminal charges to a disorderly persons offense and remand the case to municipal court. When that occurs, your case moves to municipal court and faces a trial by a judge, not a jury, unless the issue is resolved by plea bargain.
The Aftermath of an Indictment in New Jersey
Should the grand jury indict, you will be arraigned within 14 days. Unlike the grand jury that assembles outside a courtroom, the arraignment occurs before a judge who reads the formal charges against you. After formally presenting the charges, you plead guilty or not guilty. Here, you may apply to the diversionary program known as the Pre-Trial Intervention (PTI) program to avoid incarceration and get the charges dismissed by completing a series of conditions during a probationary period.
At the arraignment, the judge sets the pre-trial hearings and the trial dates. The prosecution may provide the state's evidence to your attorney as discovery. The defendant in a criminal case is entitled to see the evidence the state has against them to help them prepare their defense and dispute the charges. A criminal defense attorney conducts their investigation to defeat the allegations, such as interviewing witnesses to the crime, co-defendants, and possibly the victim. They also gather other evidence, whether forensic evidence collected by the police or independent evidence from defense experts or witnesses.
Your Criminal Lawyer's Role in the Indictment Process in NJ
Like in the early investigative stages of your case, an attorney is an essential figure in your defense to guide you through the criminal process and advise you. Our seasoned criminal defense lawyers can still negotiate with the prosecutor even after an indictment to avoid a trial. If appropriate, we can insist that you have a speedy trial, refrain from testifying at a trial, or help you apply to PTI. Should a trial be inevitable, our attorneys can serve as critical resources to your defense in presenting evidence to support your defense, confronting the state's witnesses (which is your right), and weakening the state's case, which must convince a jury beyond a reasonable doubt that you committed the crimes charged in the complaint.
Where to Turn when You are Being Indicted in Burlington County
If you have been charged with an indictable crime such as aggravated assault, robbery, terroristic threats, sexual assault, eluding an officer, burglary, drug distribution, or another offense in Burlington County, you have a right to an attorney and would not want to face the charges against you alone. Indictable crimes carry lengthy sentences, from 18 months to 20 years to life, even longer in exceptional cases. Assert your rights and find an experienced criminal defense attorney by contacting our office in Evesham Township at 609-850-8284. The consultation is confidential and always provided absolutely free of costs.