Edgewater Park NJ Criminal Attorneys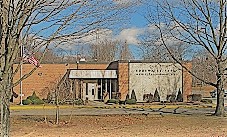 If you have been charged with a criminal or traffic offense in Edgewater Park, New Jersey, you will be forced to appear before the Edgewater Park Municipal Court to contest or plead guilty to the charges. In the past year alone, Edgewater Park Police have issued roughly 2,500 traffic violations and almost 250 criminal charges. Considering the fact that Edgewater Park is only comprised of only 9,000 resident, that is a large number of criminal and traffic charges. For this reason, the Edgewater Park Municipal Court is quite busy. The court has over all disorderly persons, petty disorderly persons, township ordinances and traffic offenses that occur within the township's borders. They also have jurisdictions over the indictable felony offenses that occurred in Edgewater Park but were remanded and downgraded back to the municipal court level. If you or someone you have have been arrested and charged with a criminal offense or issued a traffic ticket, it is important that you consult with an experienced Edgewater Park Attorney.
The attorneys at of Proetta, Oliver & Fay routinely appear in court throughout Burlington County, including Edgewater Park. An example of some cases we have handled for previous client include Aggravated Assault, Simple Assault, Drug Distribution, Marijuana Possession, DWI, Theft, Leaving the Scene of an Accident, and Possession of a Weapon for an Unlawful Purpose. Call (609) 850-8284 today and speak with a Burlington County Criminal Defense Attorney about your charges. With offices in a Mount Laurel, our firm is prepared to take on you case in Edgewater Park.
Edgewater Park NJ Municipal Court Information
The municipal Court in Edgewater Park handles all disorderly persons offenses, petty disorderly persons offenses, municipal ordinances, truancy matters, traffic offenses and Driving While Intoxicated charges that occur within the town's boundaries. These matters are heard by the municipal judge and prosecuted by the municipal prosecutor. The Edgewater Park Municipal Court is located at 400 Delanco, Delanco Road. The Court's Office Hours are Monday through Thursday from 8:30 AM to 4:30 PM. However, Court is only in sessions on the 2nd, 3rd and 4th Tuesday of each month at 9:00 AM. If you need to reach the court, the can be contacted by telephone at 609-877-7645 or Fax at 609-877-0448. The Court personal are as follows:

Judge:   Honorable Krisden McCrink, JMC
Prosecutor: Adam Malamut
Court Administrator:  Ann Dimarco
Deputy Court Administrator:  Terri Lynn Harper
For more information on Edgewater Park, New Jersey, please visit here.
DWI Lawyers in Edgewater Park NJ
Proetta, Oliver & Fay is a Burlington County Criminal Defense Law Firm that is comprised of criminal defense trial attorneys and a former New Jersey Deputy Attorney General. We consider our experience and our reputation amongst the legal community and our clients to speak for itself. Our testimonials speak volumes about what our firm can offer. We have dedicated our careers to defending the accused. We routinely appear throughout Burlington County municipal courts and the Burlington County Superior Court. For assistance with your charges and an immediate consultation with an attorney, please contact our Mount Laurel Office at (609) 850-8284. We are available 24/7 and the initial consultation is provided free of charge.
Directions to Edgewater Park Municipal Court